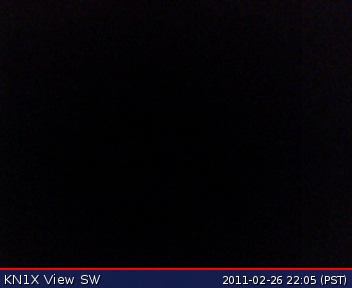 I maintain a personal weather station at my home, located in the Far West suburb near 18th and Chambers in Eugene, OR, at the base of the South Hills (Note: Before I lived here, at my last home, local news described my station in the article Colton Corner 8/25/10: Local man keeps track of weather so you don't have to).

I report my weather data to the public via Weather Underground and the Citizen Weather Observer Program. Every ten minutes my computer runs a progam to read the weather station and sends an update via the Internet to the servers for each service.

Today's Data Graphs from Weather Underground
La Crosse Technology WS-2310twc instrument package and base station. It was on sale for $125, half-off at Fred Meyer's Garden Center
MFJ-701 RFI chokes on both ends of the rain gauge cable and the near end of the wind sensor cable (about 8 turns through each core). Without this, my ham transmitter would cause readings like the rain before Noah's flood.
IoGear GUC232A USB serial port adapter - caused EHCI driver hangs. Switched to use the motherboard serial port, much more stable.
Syba PCI-Express RS232 Serial 4x Port Card, Moschip 9901 Chipset, Fan-Out Cable SD-PEX15011 - after my old PCI died (with lots of EHCI problems) the new one didn't have any serial ports. This card came up and worked with my Fedora 13 Linux kernel perfectly with no fuss.
PC computer connected to the Internet with DSL
a no-ad paid account at Weather Underground
Labtec Webcam Pro - very poor light response and acuity - I wrote scripts to evaluate the brightness level with netpbm histogram tools adjust the Gamma using fswebcam, but eventually abandoned it for:
Citizen Weather Observer Progam
This network of individual contributors contributes data to the NOAA National Weather Service's mesonet where it can be used to fine tune their forecasting models. In return, they provide me with error information about my station. I also trained to be a Sykwarn weather spotter.
My site's activity can be had by querying findu.com, or simply searching for my station ID.